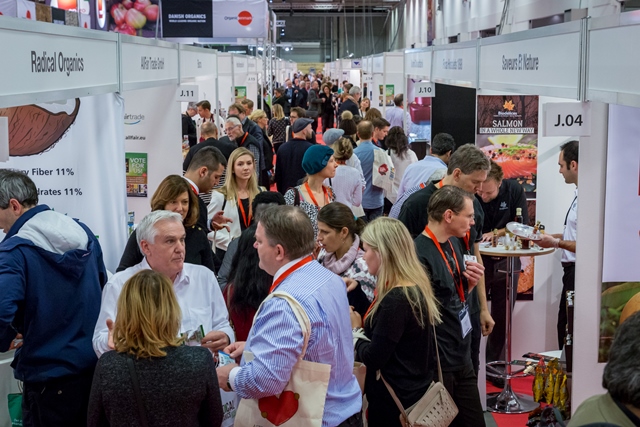 MalmöMässan, in Sweden, was at the epicentre of all things natural and organic last week, as nearly 5,000 industry buyers, retailers, wholesalers, distributors and suppliers gathered from around the world for Natural Products Scandinavia and Nordic Organic Food Fair.
The Nordic region's biggest co-located trade shows for natural and organic food and drink, health, beauty, eco-living and self-care products took place over 16-17 November. A record 4,912 attendees (a significant 25% increase for 2016) were out in force to see and sample the next-wave of new product innovations from 375 exhibiting companies.
Representatives from over 2,000 companies (from 68 countries) packed the aisles over the two day event.  Notably, over one in four visitors cited a corporate spend of over €1 million (16% reported over €5 million).
Highlights for 2016 included the announcement of the winners of the Natural & Organic Awards Scandinavia, plus the Nordic Organic Chef Competitions. While the show's three theatres – featuring 27 expert speakers, 14 brand pioneers and a new Eco Packaging conference – saw many sessions draw standing room only crowds.
Event Director Anne Seeberg said: "There was a fantastic energy and enthusiasm across the show floor this year. The aisles were packed with buyers ready to do business, and many of our exhibitors have already reported significant orders and distribution deals being done."
She added: "It's now firmly established as not just a must attend event in Scandinavia but as one of the leading events for natural and organic in the world. Combine that with a 25% increase in attendees for 2016 and we really couldn't ask for a better result."
As in previous years, the majority of visitors to the show were Swedish and Danish (68%), with key buyers and managers from many of Scandinavia's biggest retailers, health stores, pharmacy chains, wholesalers and distributors, public kitchens, and supermarkets in attendance.
The significant surge in visitor numbers has led many exhibiting companies to hail the 2016 show as its biggest and most successful yet. Thanks to a 13% increase in exhibition space for 2016, there were an unparalleled 375 exhibitors showcasing more new products than ever.  To accommodate existing numbers, and meet growing demand from a raft of new suppliers looking to reach this important market, the show organiser, Diversified Communications UK, has announced plans to host over 400 exhibitors next year.
Looking ahead to 2017, there will also be returning national pavilions from KRAV, Organic Denmark, Italy, Germany, Holland, and the Baltics.
The Nordic Organic Chef Competitions, hosted by Föreningen Ekokockar, showcased the culinary talents of top chefs from across Sweden, Norway, Finland and Estonia. Designed to promote and celebrate the valuable contributions chefs make to the organic market, the competitions also served up a host of innovative menu ideas for this year's show visitors.
Featuring new launches from the last twelve months, the show's two Natural & Organic Awards Showcases boasted a record 150 entries for 2016.  The ten 'Best new product' winners (as voted for by visiting buyers), the Butikstrender Most Unique Product Award, plus the show's two prestigious 'Lifetime achievement' awards, were announced in the Natural Theatre at the close of opening day.