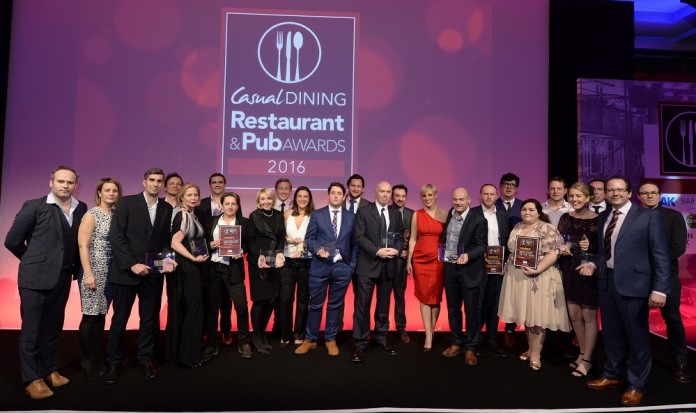 The UK's best casual dining operators were revealed last night at the launch of the first Casual Dining Restaurant & Pub Awards 2016, organised by Diversified Communications UK.
JD Wetherspoon, Côte Restaurants, wagamama, Zizzi, and Gourmet Burger Kitchen all took home awards, while Loungers' Alex Reilley was named 'Champion of the year' by the founding judges.
The 2016 winners were presented their awards by BBC Breakfast's Steph McGovern at a prestigious ceremony on Wednesday 24 February at The Grange St. Paul's Hotel in London, following the first day of the Casual Dining show. Over 300 industry professionals, including John Hutson, Steve Holmes, David Campbell and Alasdair Murdoch (CEOs of JD Wetherspoon, Azzurri Group, wagamama, and GBK respectively), were in attendance to recognise and celebrate the standout brands of the year across the growing multi-billion pound casual dining sector.
"It's fantastic to be here, celebrating the success of businesses that are providing phenomenal growth for the UK economy," said BBC business correspondent Steph McGovern.
Casual Dining's group event director, Chris Brazier, said: "The casual dining market is thriving, thanks in large part to the fantastic innovations and dedication of operators and the incredible dining experience they offer.  The launch of the Casual Dining Restaurant & Pub Awards is a much overdue opportunity to celebrate their achievements and reward those companies who are making a real difference to the growth of this dynamic, fast-moving sector.  The calibre of entries has been exceptional, congratulations to all our winners."
Casual Dining Restaurant & Pub Awards 2016 winners include:
Champion of the Year
– Alex Reilley, executive vice chairman at Loungers
New Casual Dining Concept
– The Beer Kitchen
The Social Responsibility Award
– Ed's Easy Diner
Casual Dining Marketing Campaign
– Zizzi – #ZizziTacklesCancer
Best Designed Independent Casual Dining Restaurant
– Suvlaki, Bateman St, London (designed by AfroditiKrassa)
Best Designed Multiple Casual Dining Restaurant
– GBK, St. Vincent Street, Glasgow (designed by moreno:masey)
Best Designed Casual Dining Pub or Bar
– The Pint Shop, Cambridge (designed by Macaulay Sinclair)
Independent Casual Dining Restaurant
– Project Pie, Dundee
Independent Casual Dining Pub
– The Northey Arms, Bath
Employer of the Year
– Wagamama
Multiple Casual Dining Pub Brand of the Year
– JD Wetherspoon
Multiple Casual Dining Restaurant of the Year
– Côte Restaurants
The second day of Casual Dining 2016 is open from 10am to 5pm today at the Business Design Centre, Islington, London. David Campbell, CEO of wagamama (winner of Employer of the year), will be appearing 'in conversation' with CGA Peach's Peter Martin in a closing Keynote.