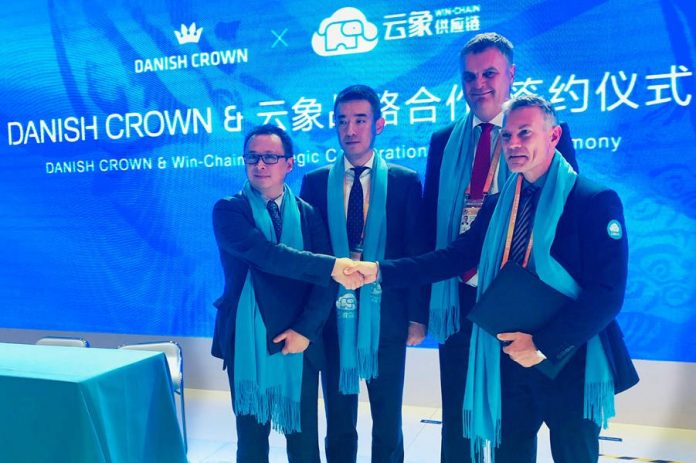 Food processor Danish Crown has struck a major new partnership with Alibaba's Win-Chain to deliver 250 tonnes of pork a week from its new Chinese factory for five years in a deal worth €300 million.
According to a company release, all of the capacity at Danish Crown's new plant in China will be used to supply Win-Chain – Alibaba's data-driven aggregated global sourcing platform for perishable food.
This latest deal buildings on a collaboration between Danish Crown and Alibaba Group signed back in August 2017. This original agreement concerned the sales and marketing of Danish Crown products on Alibaba's Tmall.
From summer 2019, this cooperation will be extended to embrace a far wider range of products which will all be processed and packed at the Danish Crown factory in Pinghu outside Shanghai.
Danish Crown has successfully exported pork to China for a number of years, but until now, customers have mostly been Chinese distributors and processing companies.
However, consumption patterns in China are changing rapidly, and getting closer to the Chinese consumer is one of the cornerstones of Danish Crown's strategy.
Jais Valeur, Group CEO of Danish Crown, said: "The Chinese market is evolving very rapidly at the moment, and there are actually three things happening all at once.
"First, e-commerce is exploding, with consumers buying the products they want online and having them delivered to their front door only a few hours later.
"In my view, Shanghai now has the world's most advanced market for e-commerce. Next, instead of buying fresh meat at the so-called 'wet markets', consumers have started purchasing retail-packed products in the supermarkets, in exactly the same way that we shop in Denmark.
"Finally, a growing number of Chinese are eating out, similar to the trend we are seeing in the US and Europe. We are now moving further up in the value chain in China, and I see significant potential in this."
In the spring, Danish Crown broke the ground for the group's first processing facility in China. The 17,000-square-metre new facility will be sited less than 100 km from Shanghai.
It has been designed to produce 14,000 tonnes of processed products a year, first and foremost for the more than 25 million people living in Shanghai, but also for the rest of the Chinese population, which currently stands at almost 1.4 billion people.