Global Food Contact 2019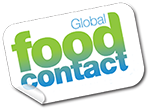 Global Food Contact is the only place to receive the latest information on regulatory requirements in all the key markets you export to including Canada, China, Japan, Africa, India and more. Featuring high-level discussions on the key issues facing the global food contact industry, Global Food Contact is the must-attend event for anyone across the supply chain.
Global Food Contact 2019 will take place on 14-16 May 2019 in Lisbon, Portugal. Register your interest via the link below, or book your ticket today, to ensure that you're involved.