BrauBeviale 2019 will once again bring the industry together for the world's most important capital goods fair for beverage production and marketing.
At this year's BrauBeviale, some 1,100 exhibitors are expected to showcase solutions covering the entire beverage process chain, from beer, cider and spirits, to juices, soft drinks and liquid dairy products.
The main theme this year's event is the future viability of the beverage industry and it will explore the challenges facing both equipment suppliers and beverage manufacturers.
Alongside digitisation, automation and other technical buzzwords and innovations, globalisation is another key issue. In many sectors Germany is the world's leading exporter, so it's only logical to investigate this in the beverage industry as well.
Many drinks manufacturers are already doing well out of the overseas market, which is sometimes more lucrative than the German market when exporting beer, wine, spirits, soft drinks, fruit juice or mineral water.
This year, the Export Forum German Beverages held the day before BrauBeviale will be making its fourth appearance. A vendor-independent, non-competitive forum, it offers a platform for gaining information, knowledge-sharing and networking.
High-calibre speakers will cover a wide range of different aspects of export, including markets and sub-markets, practical organisation and implementation of export business, or financial aspects relating to international payments.
This year, there will be a particular focus on Russia, Italy, the USA, Belgium and Korea. In addition, best practice examples from the spirits and wines export segment will provide interesting inspiration that is relevant not just to breweries. Interested visitors should register as soon as possible to secure their place.
To be able to continue to operate successfully on the market in future, each company needs to be able to count on its workforce. The issue of the lack of skilled employees at all levels is one that also affects the beverage industry.
This is why on the last day of the fair, the afternoon session in the BrauBeviale Forum is dedicated to the theme 'Next Generation'. It is directed at skilled professionals and young recruits from generations Y and Z, as well as entrepreneurs thinking about how to best manage their succession process.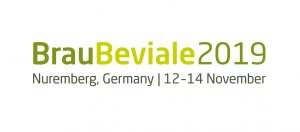 BrauBeviale 2019 takes place from 12 – 14 November in Nuremberg, Germany. Visit the website to find out more and to buy tickets.