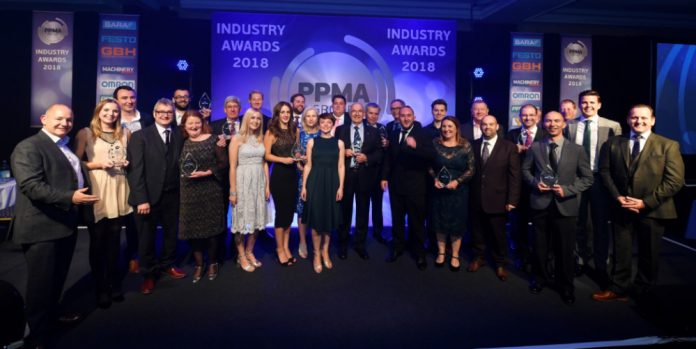 Entry for the PPMA Group Industry Awards 2019 is now open to all PPMA Group Members and others involved in the industry.
Now in its eighth year, the PPMA Group Industry Awards 2019 brings together more than 300 industry professionals and stakeholders to celebrate the finest examples of innovation, smart manufacturing and entrepreneurship.
There are 12 Awards categories, ranging from most innovative technologies in processing, packaging, robotics, vision systems and ancillary equipment, to achievements in sales, export and the environment.
The 'Apprentice of the Year' Award serves to acknowledge the most promising young talent within the processing and packaging, robotics and automation and industrial vision industries.
Companies that have developed a comprehensive apprenticeship or training programme have the opportunity to be recognised too through the PPMA BEST Award.
All entries will be judged by a panel of eight independent industry experts, including academia, end-users, editors and engineers.
This year's Awards, featuring a three-course gala dinner, will be hosted by UK television presenter and magician, Stephen Mulhern, who has appeared as host on Britain's Got Talent, Catchphrase and Big Star's Little Star.
The 2019 PPMA Group Industry Awards will be held at Birmingham NEC on the evening of the first day of the PPMA Total Show 2019 – Tuesday, 1 October 2019.
The deadline for submissions is 17 July 2019.