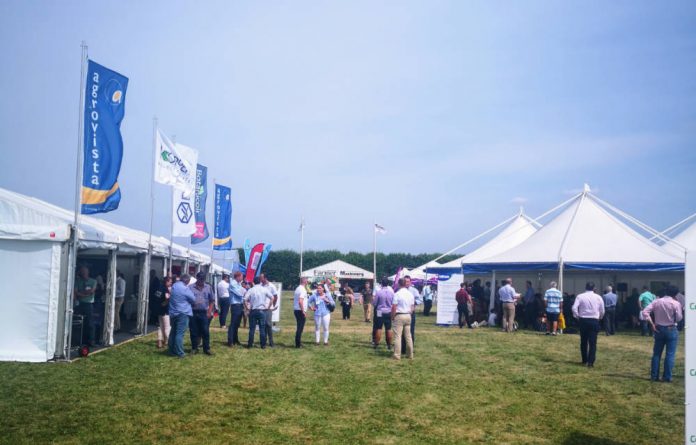 Held earlier this month, Fruit Focus 2019 saw a 15% increase in visitor attendance over the previous year.
The event, which took place at NIAB EMR, brought together growers, agronomists and industry professionals from all over the UK and other parts of Europe to discuss innovation, technology, strategic initiatives and hands-on solutions for the fruit farming industry.
The major themes discussed in the NFU Fruit Forum predominately focused on the concerns that UK fruit farming industry will encounter post-Brexit.
The NFU's first session, 'Setting the Ambition for a Productive and Profitable Horticulture Industry', covered productivity of the horticulture sector and how future agricultural policy can support this growth.
It gave growers the opportunity to ask questions to the Minister of State for DEFRA, Rt Hon Robert Goodwill MP; NFU Horticulture and Potatoes Board Chair, Ali Capper; AHDB Head of Horticulture Knowledge Exchange, Dr. Debbie Wilson, NFU Chief Horticulture and Potatoes Adviser, Lee Abbey.
The second session, chaired by NFU Horticulture and Potatoes Board Chair, Ali Capper, discussed the 'Future Immigration Policy and What it Means for Horticulture' which brought together growers, labour providers and DEFRA to discuss the needs of the horticulture sector for both permanent and seasonal labour and how the post-Brexit immigration policy could impact this.
In addition to Ali Capper, the panel included: CEO for Concordia, Stephanie Maurel; Head of Seasonal Labour, Stephanie Sloan;  Owner and Farm Manager, David Long and MP for Faversham and Mid-Kent and Chair of the All-Party Parliamentary Group for Fruit and Vegetable Farming, Helen Whately.
Fruit Focus 2019 offered a range of different features to visitors from thought-provoking seminars, an information-packed exhibition to research tours around NIAB EMR. This year, there were plenty of tours available with strong participation throughout the day.
The tours on offer included; the Strawberry WET Centre, Concept Pear Orchard, R&D Vineyard, Plum Demonstration Orchard, The Produce Quality Centre and Floral Interventions.
At this year's event, AHDB Horticulture worked with NIAB EMR to help promote the launch of their two new varieties for the Strawberry WET Centre to raise the profile of their introduction to the sector.
After two seasons of growing 'MallingTM Centenary' the new industry-standard strawberry, the WET Centre had been planted with 'MallingTM Champion' – a disease resistant, high quality ever-bearer strawberry from the East Malling Strawberry Breeding Club which was commercially launched at Fruit Focus.
Ross Newham, Operations Director at NIAB EMR, said: "Fruit Focus has been a great show for us this year! We had the successful launch of the 'Malling Champion and Malling Allure' by the Minister, had a lot of interest on the NIAB stand and many people going on the tours. We have had a great day and are looking forward to hosting Fruit Focus again in 2020."
Fruit Focus 2020 will be held on 8 July 2020 at NIAB EMR.