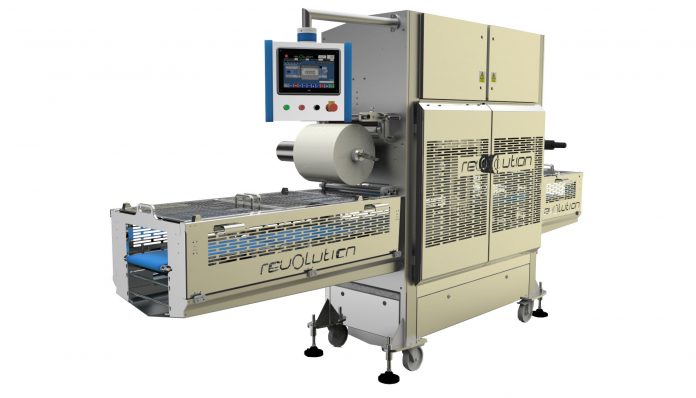 British Manufacturer, Packaging Automation (PA), showcased its high speed robotic Revolution tray sealer at Fruit Logistica 2020 to great reviews.
The Revolution was sealing a pulp tray to demonstrate that this environmentally friendly alternative can be run on the same tooling as plastic with no modifications required allowing interchangeability on a line without delays for tool changes.
The exhibition enabled PA to showcase some brand-new features on the machine that have been designed to support customers in their quest for efficiency gains in their packing operations.
During the demonstration of these features, customers gave fantastic feedback in particular seeing the benefit of the integration of the date coder control into the Revolution HMI screen and the clear visual management data on screen showing a live dynamic graphic of the performance of the line including actual speed of operation and optimal speed highlighting the impact of upstream slow downs or stoppages on total output.
Turning then to the latest innovation in tooling that was unveiled, many visitors commented on the benefits of the use of RFID chips in the tools that prevent operators from running the machine with incorrect tooling components which can lead to expensive downtime and repairs.
Also on display was the recently launched range of MiWeigh productivity improvement solutions for packaging operations. With the goal of maximising productivity, they monitor operator performance and provide a real time visual management tool to aid decision making to improve pack consistency with a clear return on investment.
"We're really pleased with the feedback on the new developments, to the Revolution which are now available to our customers to retrofit to existing lines," said Managing Director Neil Ashton.
"Visitors not only loved the machines on shows but were keen to discuss the fully recyclable and composting packaging solutions we were exhibiting too."
He added: "If you were impressed with our display at Fruit Logistica, just wait till you see what we have in store for Foodex."
Packaging Automation will be exhibiting on stands G201 & N98 at Foodex in March.