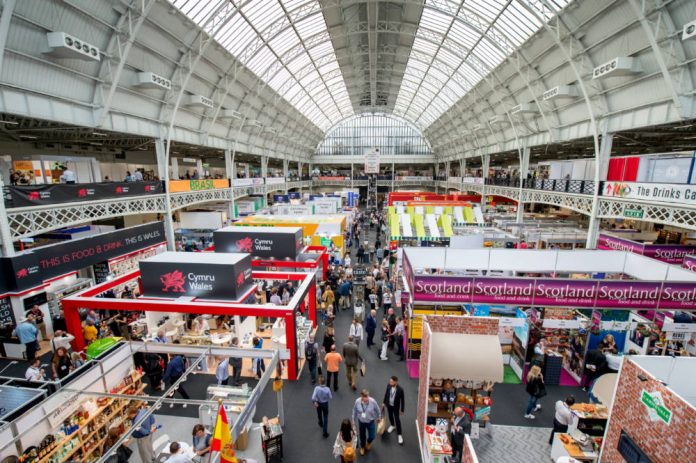 Food and drink professionals are invited to the industry's market leading showcase of British and international talent within the speciality food and drink sector.
Supporting innovation at the forefront of the UK's artisan food and drink industry for two decades, Speciality & Fine Food Fair returns to host a special 20th anniversary edition at Olympia, London from 1-3 September 2019.
Registration is now open, so get ready to be inspired and meet the very best of the artisan food & drink world.
Discover the latest ground-breaking products and inspiring brand launches; participate in a diverse programme of talks and features covering the industry's most pressing topics and trends.
Mix with respected industry experts, whilst maximising the unparalleled networking opportunities with key decision makers.
The destination for food & drink
With twenty years' experience, the Speciality & Fine Food Fair team know what makes the industry tick and the products that are set to take the market by storm. Since 1999, the Fair has championed emerging talent – launching countless successful brands that have gone from strength to strength in the industry.
An audience of over 10,000 retailer buyers, hospitality professionals and manufacturers from the UK and overseas can look forward to a celebration of the show's rich heritage and the industry's even brighter future.
This year, Speciality & Fine Food Fair is delighted to continue its partnership with the Guild of Fine Food and welcomes English Heritage, to sit alongside many other ongoing partnerships, as well as presenting an array of unmissable features:
Discovery Zone
The show's go-to destination for visitors looking to source new innovative suppliers. An unparalleled platform for over 200 fledgling brands, all under three years old. New exhibitors include Hawkhead Whisky Smoked, NoJo London, Jeffrey's Tonics, The Painted Peacock and many more.
Savour the Flavour
Expand your knowledge of the latest food trends at the live demonstration theatre. Industry-leading chefs and specialists take to the stage to create vibrant, inventive dishes and share their insider tips.
Drinks Cabinet
Capitalise on the continuing success of the booming drinks market. Meet with mixologists, source new products and uncover the latest trends, including the emergence of exciting 'low and no' options.
New International Pavilions
Meeting the demand of ever more adventurous consumers as Global cuisine continues to stamp its mark. In response to visitor demand, Speciality & Fine Food Fair is expanding its international offering, welcoming Belgium (Flanders and Wallonia), Mexico in partnership with MexGrocer and Gveongnam Trading, showcasing speciality food from South Korea. They'll appear alongside long-standing contributors such as France, Brazil, Italy, Spain and many more.
Food for Thought
Hear from business owners and experts on how you can stay one step ahead of the competition, by learning how to overcome the hurdles and embrace the opportunities associated with the dynamic world of food and drink.
Other unmissable features at the Fair are Fresh Discovery Awards, Great Taste Deli and of course, our special 20th Anniversary plans.
Additionally, every year, the organisers aim to provide a high-quality experience to retail buyers of all sizes by introducing them to new products in the industry.