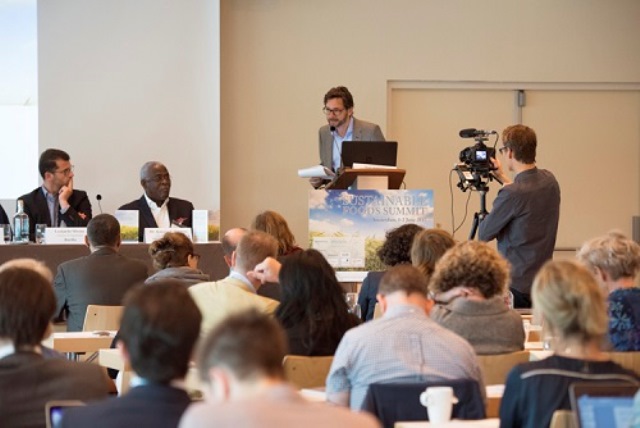 The Sustainable Foods Summit aims to help the food industry move towards a circular economy. Organised by Ecovia Intelligence, the North American edition will give an update on eco-labels, sustainable ingredients, and green packaging solutions.
Here are eight things participants will learn:
Need for a circular economy
It is argued that many of the negative impacts associated with the food industry could be resolved by shifting to a circular economy. Holly Bybee from IDEO will discuss the role of regenerative agriculture, sourcing locally, and product design in a sustainable food industry. The challenges and opportunities in making the transition to a circular economy will be highlighted.
Closing packaging loops
The food industry, the largest user of single-use packaging, is under intense pressure to reduce its packaging impacts. Some of the solutions provided by bio-based polymers, recyclable materials, and compostable packaging will be explored. Anthony Rossi from Teracycle will explain how its new Loop shopping platform aims to make single-use packaging a thing of the past. Case studies will also be given of brands adopting innovative green packaging solutions.
Upcycling of food ingredients
In recent years, a flurry of start-ups are finding new applications for discarded food. The Planetarians is one such company, using defatted sunflower seeds to make plant proteins and protein flour. The company's CEO Aleh Manchuliantsau will discuss the challenges in setting up supply chains for 'waste ingredients' and getting customers to try upcycled ingredients.
Opportunities with hemp ingredients
Chris Conrad, internationally recognized cannabis expert, will highlight the opportunities for hemp and cannabidiol (CBD) in food and beverage products. According to a survey by the National Restaurant Association, 76 percent of Americans see cannabis / CBD-infused drinks as the number one trend. Conrad will also give an update on the regulatory challenges when marketing CBDinfused products.
Positive impacts of ethical sourcing
A growing number of companies are investing in ethical sourcing of their ingredients, however doing so brings many challenges. Since its formation in 1999, Numi Tea has been ethically sourcing tea from various countries. Its CEO and co-founder Ahmed Rahim will give insights into the pitfalls in setting up such projects in Asia and Africa, as well as the 'difference' they have had on local communities.
Foods that promote biodiversity
Food production is directly linked to biodiversity of plant species. Caryl Levine, co-Founder of Lotus Foods, will explain how the company is encouraging production of rare varieties of rice, such as long grain red rice and dehraduni basmati rice. Pierre Thiam, one of Africa's leading chefs, will share his company's mission of introducing Americans to an ancient African grain. Yolélé Foods is sourcing fonio, a gluten-free superfood grain, from small subsistence farmers in West Africa.
Levine and Thiam will also highlight the marketing issues when introducing rare / heritage food products into the US market.
Conscious capitalism and social justice
There is growing corporate interest in conscious capitalism and / or social activism. Dr. Bronner's Magic Soaps has been at the forefront of corporate activism and promoting social justice since its formation. The Californian firm will show how conscious capitalism can be a force of good and can help resolve social issues.
Supply chains for organic ingredients
North America has the largest market for organic foods in the world, however many sectors are experiencing undersupply. Amarjit Sahota, Founder of Ecovia Intelligence, will give an update on the organic food market whilst Tradin Organic will highlight major trend and developments for organic ingredients. Details will be given on Tradin Organic is setting up international supply chains for organic raw materials.
The 10th North American edition will be hosted at the Merchants Exchange Club San Francisco on 22-23rd January 2020.