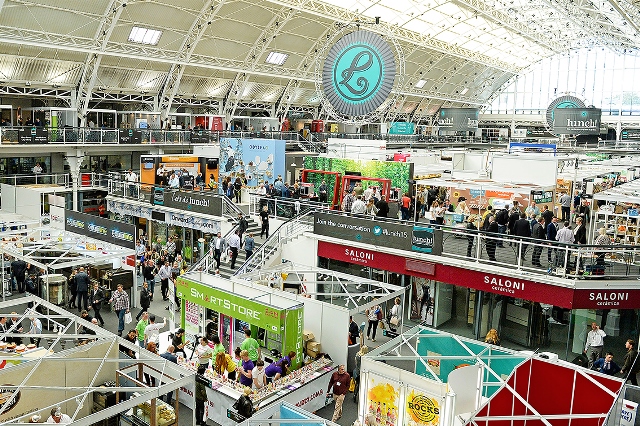 Thanks to a 23% increase in stand space for 2017, lunch! will host the biggest food-to-go showcase the UK has ever seen.
335 exhibitors have now booked all available stands for the much anticipated tenth anniversary show, which will take place at ExCeL London on 21-22 September.
The show sold out over two months in advance of doors opening, with strong exhibitor uptake from across the entire food-to-go sector.
The final stands to be snapped up last week all went to new companies: Nibble Group, Big Boss Palm, Thai Delicious, Shibui Tea, and Deli Lites Ireland.  They'll be making their lunch! debut alongside twelve of lunch!'s founding exhibitors.
Notably, The British Sandwich Association (including Sandwich & Food to Go News and Café Culture magazine), Kavis, Teapigs, The Handmade Cake Company, and Tri-star Packaging, have graced every lunch! exhibitor list since its launch in 2008.  Show regulars, who also exhibited that first year (and many since), include Salty Dog Brands, Biopac UK, James White Drinks, Natural Balance Foods, Nestlé UK, Plas Farm Frozen Desserts, and Chegworth Valley Juices.
"We'd like to say a big thank you to all our exhibitors, but particularly these founding exhibitors and our partners The British Sandwich Association, for their continuing support of lunch!" says group event director Chris Brazier.
"Right from the start, we wanted lunch! to be different.  To really stand out from the event crowd, and to be a real buying experience that visitors – from the biggest food to go multiples to local cafés and coffee shops – all actually enjoyed coming to.  Now, every year, we hear about lunch!'s fantastic buzz and unique atmosphere.  It's such an integral part of the show – and it just gets better with each show."
"Ultimately though, it's the latest innovations from our exhibitors that really keep the buyers coming back year after year.  They love the vibrancy and relevance of lunch! and its fantastic choice of products, and our exhibitors love meeting senior buyers with smiles on their faces.  It really is a winning combination," he says.
Subway, Greggs, Costa Coffee, Caffé Nero, Starbucks, M&S, Sainsbury's, Co-op, Aramark, Compass, AMT Coffee, SSP UK, BaxterStorey, Booker Group, and Coffee Republic are just some of the other big names that were walking the aisles of lunch! 2008.  They've been making an annual date with lunch! ever since.
Buyers looking to source the next wave of bestsellers will have more choice than ever for 2017.  lunch!'s new venue will accommodate even more innovative exhibitors, more new food-to-go products – including food, drink, packaging, equipment and catering technology, an extended Start-up Zone featuring some of the industry's newest suppliers, and two Keynote theatres.
The move to ExCeL has also enabled many exhibitors to opt for bigger stands to maximise their brand presence.
These include Magrini, Adelie Foods, RAP, Nestlé Water, Rombouts Coffee, rexmartins, Karma Cola, The Alan Nuttall Partnership, Kavis, SFD, Food Attraction, Impress Sandwiches, Europastry, Natural Balance Foods, and KIND Snacks.
Lucozade Ribena Suntory, Fentimans, Raynor Foods, Bord Bia, Cawston Press, UCC Coffee UK & Ireland, Propercorn, Tyrells Crisps, Rational UK, Coveris, Florette UK & Ireland, The Food Doctor, Whitworths, Traybakes, Tideford Organic Foods, Country Choice, Rude Health, Karimix, Major International, Cornware UK, Honeybuns Bakery, Mr Lee's Noodles, Pulsin', Packnwood UK, Rebel Kitchen, and Vita Coco are just some of the other big name returning exhibitors.
New exhibitors also include Melitta Professional Coffee Solutions UK, Schur Star Systems, Caffia, The Protein Ice Cream Company, Zeo Drinks, The Real Olive Company, Tuk-Tuk Food & Drinks, Ninkee, Gunna Drinks, The Cool Confectionery Company, Spry Foods, Speciality Breads, The Mae Deli, Ugly Drinks, Battle Oats, Caffe Di Artisan, CanO Water, Zeus Packaging, and Pelican Rouge Coffee Solutions.