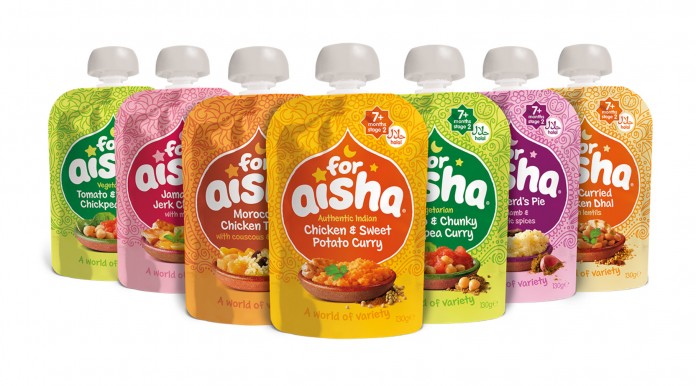 for aisha, the Lincolnshire, UK-based premium Halal baby food brand launched in July 2015, has signed a deal to supply baby purees into Tesco from mid-January and Morrisons from 1st February.
As part of the deal for Tesco, for aisha will be launching on one of their feature ends during Baby Event. It will be the only baby food brand on this feature space ensuring maximum customer visibility.
The Morrison's listing sees the company being placed in its own free-standing display in their top Halal stores so creating a brand new category 'Halal Baby Food'. This will be supported by PoS communicating the complexity of the ingredients and recipe cards.
According to the 2011 census, there are 2.8 million Muslims living in the UK and this number is growing fast. By 2121 the population is predicted to be 4.9 million. This group currently accounts for 4.8 per cent of the UK population. Demographically the community is young. Islam is also the fastest growing faith in the UK and in 2011 it was reported that there were 100,000 converts, with 5,200 in 2011 alone.
Mark Salter, founder of for aisha, said: "We have potential to become a much bigger player in this sector capturing customer demand from the muslim parent sector and also by pioneering the use of super healthy ingredients, which are relevant for all UK parents. We have further major launch announcements to make later this year.
"We kept the sugar content at the front of mind when developing our recipes. The South Asian demographic in particular are highly susceptible to Stage 2 diabetes and the market is saturated with easy to make fruit products. Our aim was to introduce super healthy products that would benefit all children. The Mintel baby reports backed up the requirement from parents, 69 per cent of whom said that they wanted to expand their baby's taste palates with new exotic ingredients.
"We therefore shelved our initial launch of fruit purees and launched our savoury-only dishes. Uniquely we use herbs and spices to encourage the development of babies food palates – negating the need for salt and sugar during early weaning – and our food tastes and smells delicious too!"