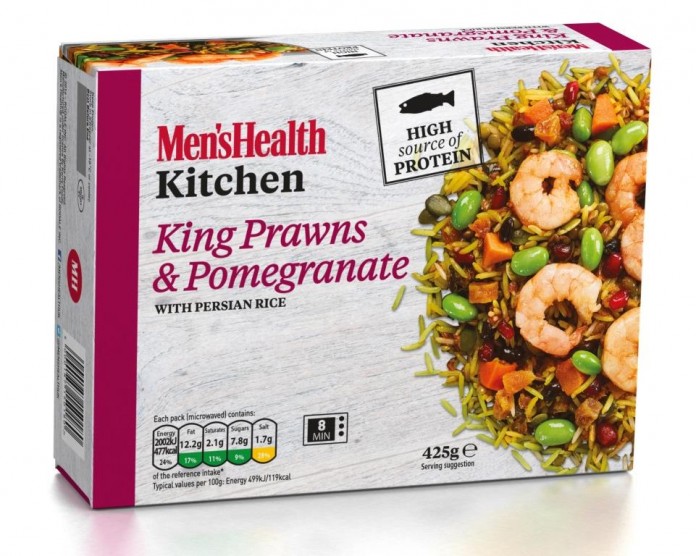 Kerry Foods aims to create a new destination for health conscious, time poor consumers with a new range of frozen ready meals under the Men's Health brand.
Launching in April and rolling out across national retailers throughout the year, the healthy, high protein meal range is designed to appeal to fitness orientated and nutritionally engaged men.
The 'Men's Health Kitchen' range aims to tap into the consumer need for balanced, high protein meals and target the developing branded FRM market, which is worth £218 million, having seen 7.3% growth in 2014-15. Staying true to Men's Health's core nutritional values, the nine bold recipes all contain at least one of your five a day, are a source of fibre, high in protein and low in fat, sugar, salt, and oil.
Kerry Foods brand manager, Charlotte Bourne, said: "Men's Health is considered the 'epitome of health'.  As it is so highly regarded for food and nutrition advice, the brand resonates strongly with both readers and non-readers, making them the perfect partner. The range is designed as a consistent lifestyle choice, aimed at enticing consumers who are willing to pay a premium price for nutritionally balanced meals made from natural ingredients."
With its existing Men's Health Fuel beef jerky Men's Health has proven experience in the food industry. A trusted brand with over 3 million engaged consumers across its magazine, online channels and Survival of the Fittest events, Men's Health is a leading source of information for men aspiring to lead healthy, active lives.
Ms Bourne added: "With 77% of UK consumers eating protein as part of an evening meal and 47% eating protein as a form of weight management, we have identified a clear demand for protein rich, nutritionally balanced meals.  The new range will make it easy for health-conscious, male shoppers find the right meals to help them progress with their lifestyle goals."