Hygiene Standard Operating Procedures dictate that food factory staff must always wear hygienic footwear within high risk areas, notably on the production floor. Managing risk can also mean providing boots that are stored securely on the premises. However, getting the logistics right to ensure all staff can quickly locate their own pair at the start of the shift is often easier said than done.
Each shift change in a busy facility can see hundreds of people looking for the right sized boots in cramped changing rooms at once. This wasted time and adds up over months and years to have a detrimental impact upon business performance.
Moreover, changing rooms serve dual purposes, both practical and psychological, conscious and subconscious. They stand as the portal between the outside world and the hygiene-controlled environment of the production area. As such, they play an important role in putting each member of staff into a hygiene mindset for their shift.
Consequently, this process of putting on the working uniform should be highly considered. Items such as gloves, hair nets, and – crucially – boots play the most significant psychological role, standing as the most obvious barriers to contamination.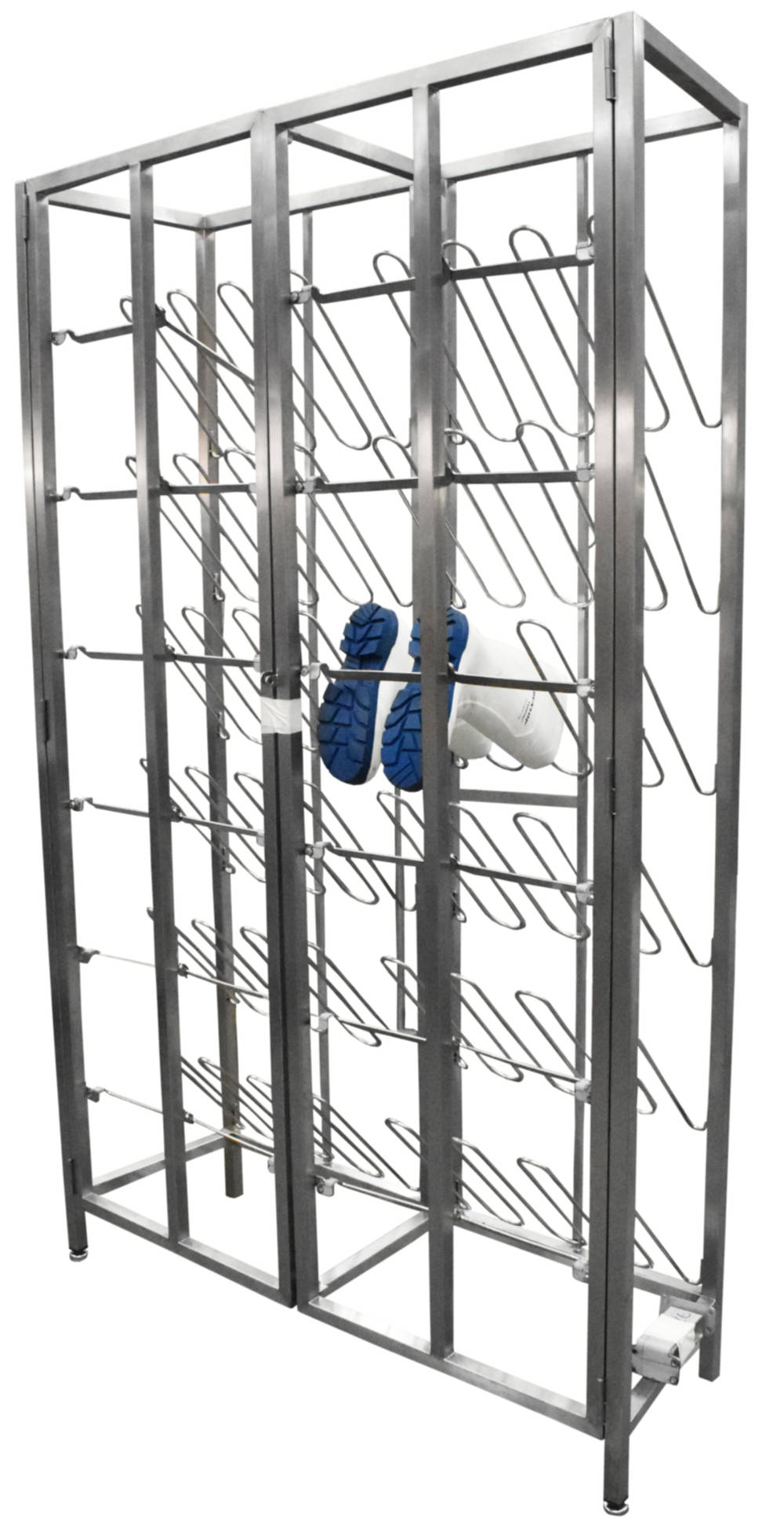 Appearances are all-important. An unstructured experience and, worse, one that is conducted in untidy surroundings will only foster sloppiness in the working environment. This translates into risk.
However, the great challenge in many facilities is finding the space for best practice. Allocating individual locker space to every single member of the team simply isn't feasible in most cases. Even when it is, asking cleaning staff to move each pair of boots to and from specific lockers for clean down after every shift is not an effective use of time.
Step forward Teknomek's new lockable boot racks.
The tall but narrow design reduces the physical footprint for each unit, the freestanding pedestals can store up to 24 pairs of boots over six rows. This leaves plenty of room for all-round cleaning in situ and without compromising on the hygiene factors. A single management override door provides access to all pairs at once for ease of cleaning, making the process quicker and more efficient.
Hygienic design is factored into the unit itself, all boots are held on a continuous easy to clean prong made from hygienic 304 grade stainless steel. This reduces the number of raised welds, which can act as trap points for dirt and contaminants.
While cleaning crews alike will appreciate the nuances of the hygienic thinking and facility managers will certainly notice the OPEX impacts, there are clear benefits to the end users too. The boots are held on the prong at a 90° angle during cleaning, uncomfortable, damp insoles will become a thing of the past.
Individuals can also padlock their pair in place and safe in the knowledge that they won't be moved or misplaced by cleaning teams or 'borrowed' by colleagues between shifts. With these racks, boots aren't made for walking.
In hygienic design, it's the small details that drive efficiencies. Small steps really can translate into giant leaps.