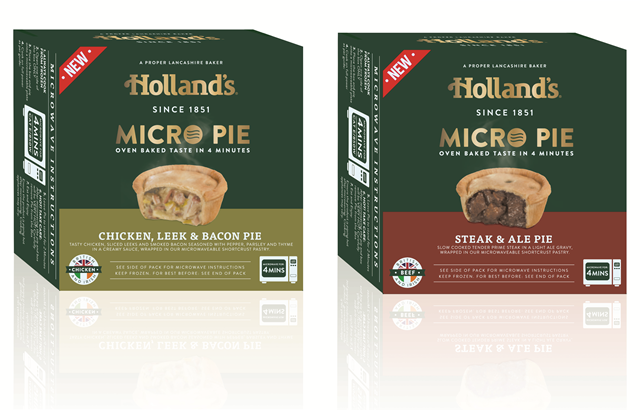 Lancashire baker Holland's Pies have marked the start of National Pie Week with the launch of a brand new Micro Pie range.
Pairing microwave cooking technology with Holland's new microwavable shortcrust pastry, the Micro Pies bring an innovative concept to the frozen pie category.
The new range can be microwaved in the packaging straight from the freezer. Using susceptor packaging technology, the pack also crisps up the pastry during the cooking process creating an oven-baked taste in just four minutes, making them an ideal choice for consumers wanting a quick snack at home.
Each filling is encased in Holland's new golden shorter pastry, a signature recipe developed to create oven an baked taste straight form the microwave.
Available in over 400 Tesco stores across the UK from next week, the new range comes in two flavours: Chicken, Leek & Bacon and Steak & Ale.
The Chicken, Leek & Bacon Micro Pie includes British & Irish chicken, sliced leeks and smoked bacon. The Steak & Ale Micro Pie includes slow cooked tender prime steak in a light ale gravy, baked in Holland's microwavable shortcrust pastry.
Leanne Holcroft, Brand Manager at Holland's Pies, said: "The UK frozen pie market is worth over £160 million at RSP, our new micro pie range offers innovation to the pie category, which will increase this market even further."
She added:  "As convenient as they are delicious, these tasty snacks bring our products to life in a completely new way. We've invested a lot of time in perfecting a pie that offers an even crispier and shorter pastry, an oven-baked taste and Holland's signature flavour and we're delighted with the finished product. We look forward to hearing the feedback from shoppers and expanding this new range to even more retailers in the near future."