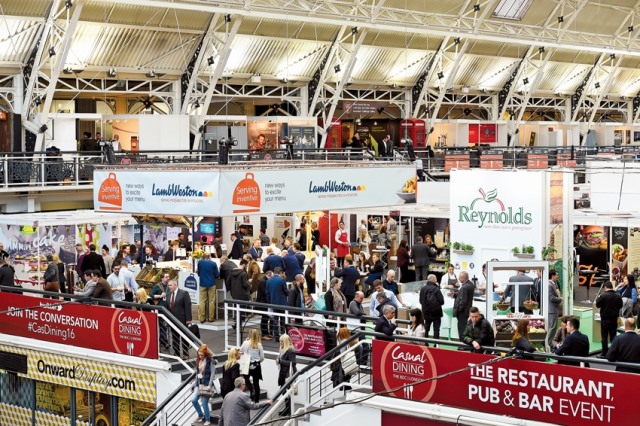 Boosting pub menu innovation and profitability is a key theme at next month's Casual Dining trade show, which returns to the Business Design Centre in London, on 22-23 February.
Big names from Marston's, Young's, Geronimo Inns, Hippo Inns, Fuller's, and Living Ventures are the latest and final additions to this year's expert free Keynote line-up, which already includes Bob Ivell, Non-Exec Chairman of Mitchells & Butlers. They'll be appearing alongside over 200 exhibitors showcasing a host of new products, equipment and services for the on-trade.
From snacks, sharing platters and sides, to all day dining – food continues to be a crucial revenue stream for thousands of UK pub and bar operators. The ALMR's latest annual Benchmarking Report shows that food sales now account for around a third of pubs' turnover.  Those that are already investing in providing high quality, good value food are driving footfall and gaining customers – with food-led pubs holding a 24.7% share of the UK's total eating out market (which is worth in excess of £87 billion, according to MCA).
Such numbers make it a hugely competitive marketplace. Being quick to adapt to emerging food trends and keeping up-to-date with new product developments is key. And thousands of pub, bar and restaurant buyers (over 4,400 attended in 2016) come to Casual Dining annually to do just that.
The future of pub food – exclusive panel session
Whilst in the past customers may have accepted that what they consume at home may not be available at their local pubs and bars, they're becoming a lot more discerning and they do expect 'high quality' menu choices. Growing awareness of provenance, seasonality and naturality, for example, combined with special diet requirements – are far from passing food fads. They have been shaping consumer demand for years. Pub operators that don't provide these options as standard, could potentially be missing out.
"Our guests are more knowledgeable on food than they ever have been – provenance, seasonality, artisanal and freshness are among some of the foodie buzzwords that we associate with our guests. Our menus reflect these buzzwords and provide dishes that are flexible to what time of day it is, ensuring that our guests use our pubs more casually," said Chris Knights, Group Executive Chef at Young's Pubs and Geronimo Inns.
Knights will be appearing, alongside Paul Dickinson, head of food at Fuller, Smith & Turner, in the show's 'Future of pub food' panel session. Chaired by Mike Berry, Head of Content at Fleet Street Communications (and a former Managing Editor of the Morning Advertiser), the expert panellists will examine recent successes, share trends shaping their pub menus in 2017, and look beyond to predict where food in pubs will be years from now.
"As well as many other trends that influence our menus, and pubs in general, a trend that I feel will have great traction for 2017 will be authenticity," said Knights. "A pub serving proper pub grub, it's homely, nostalgic and tweaked for a more foodie generation."
Casual Dining will return to the Business Design Centre, in Islington, London, on 22-23 February 2017.  For more information and to register for a free trade ticket, please visit www.casualdiningshow.co.uk and use priority code CD30.