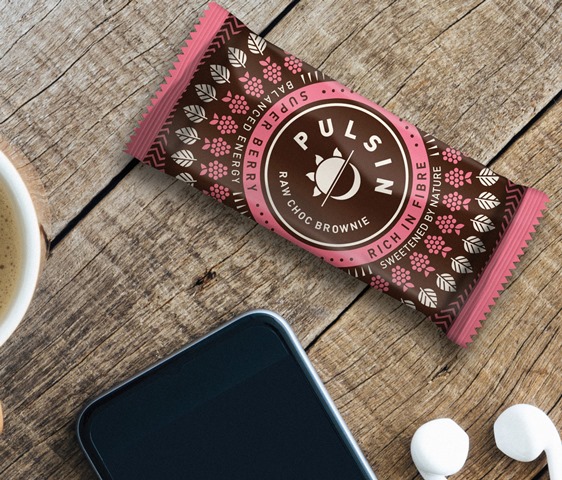 British snack and protein powder company Pulsin has unveiled its new look – including a new logo, packaging and point of sale materials – as part of a major rebrand to celebrate its 10th anniversary.
Over the last decade, Pulsin has sold 22 million protein bars and raw choc brownies and 481 tonnes of protein powder and is stocked in Tesco, Whole Foods Market, Ocado, Holland & Barrett and other leading health food stores.
The change is a significant move for the brand, which specialises in nutritious protein powders and bars that transform everyday eating occasions into health-optimising opportunities that maintain and enhance natural balance.
As part of the launch, Pulsin is taking over a window of Whole Foods' flagship store on Kensington High Street during May.
The new logo features a sun and moon, said to represent the idea of sustained, natural energy throughout the day and night. The logo highlights the brand's mission to help people avoid the unnatural highs and lows of nutritionally-unbalanced, sugar-filled foods. The new packaging brings together geometric and intricate designs with vibrant colours that represent each product, making purchase at-a-glance easier for consumers.
To bring the new branding to life, Pulsin worked with brand consultancy The Space Creative after being impressed with its research-driven approach to design work and successful track record with brands like Pukka Teas.
Pulsin products are 100% natural, so no artificial colours, additives, preservatives or GM ingredients, are gluten-free, suitable for vegetarians and low in sugar. In 2016 Pulsin launched its first ever range of kids' products – the Fruity Oat Bars. With the new brand in place, Pulsin plans to expand its core range of protein powders, bars and brownies with new products currently in development.
Since starting Pulsin in 2007, co-founders Ben Lewis, Nick Bildner and Simon Ashburner have aimed to change the perception of protein products including powders and bars. The decision to rebrand was led by this desire to reach a wider audience and transform protein products into everyday healthy snacks for ordinary people rather than a quick fix for bodybuilders.
Steff Parker, Pulsin Marketing Manager, said: "This rebrand is one of the most significant developments we've done as a company, and we're excited to be able to finally share it with our trade partners after substantial investment.
"Consumers are faced with more choice than ever when it comes to healthy snacking, but they often don't have the time or the energy to read label after label to see if what's on offer is a healthy as it claims to be, as it often isn't.
"With this major change to our brand, we feel the logo and packaging now fully reflect what Pulsin is all about."