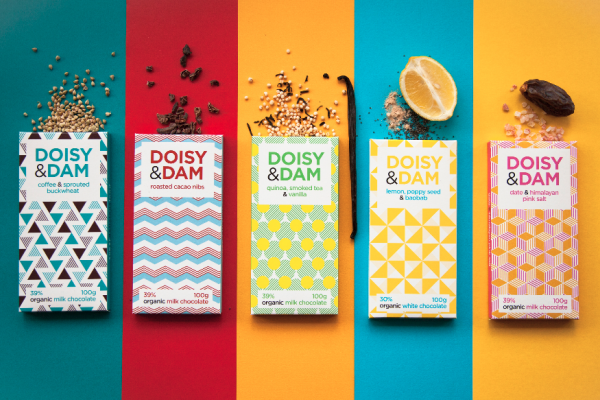 Doisy & Dam are set to launch five new varieties of the finest white and milk chocolate to their Great Taste Award winning range of dark chocolate.
The brand create innovative and artisan chocolate bars with three intriguing key elements – taste, texture and nutrition. Adding to its range of artisan chocolate bars, Doisy & Dam will be adding to its range, alongside white and dark chocolate gift sets, in time for Christmas.
Joining the range will be a 30 per cent white chocolate, accented by lemon, poppy seed & baobab as well as Doisy & Dam's healthy take on salted caramel, date & Himalayan pink salt; the popped quinoa, smoked tea & vanilla; pick-me-up coffee & sprouted buckwheat and roasted cacao-nib-specked milk chocolate bars. All at 39p per cent organic Dominican cocoa, theirs is a much higher cocoa percentage than your average milk choc (Dairy Milk sits at just 23% cocoa), delivering an uncommonly rich and moreish flavour profile.
Each bar is handcrafted in Norfolk, UK using the optimum organic ingredients, carefully sourced from all over the world. As well as provided a guilt free alternative to traditional chocolate, Doisy & Dam are able to offer a more sensual experience, with the berries and seeds providing a variety of textures and sensations.
Founders, Edward Smith and Richard Wilkinson set out to pack their chocolate with superfoods to create a unique indulgence, providing the perfect balance between health and taste. To correspond with this mission, the recipes were kept simple, with nothing artificial and no hidden ingredients.
Ed comments: "Richard and I have been best friends since we were 5 and one of our aspirations was to start a business together. After working for a few years, we decided that no amount of experience could beat doing the real thing, so we decided to leave our jobs in finance and marketing and to start a business making a product that we believed in and most importantly, loved!
"We've been foodies for a long time, superfoodies for a little less time, but we wanted to create a product that had the nutritional benefits of natural, good foods and the delicious taste of an indulgent product. We didn't believe in the idea that you have to sacrifice taste to create a natural and good food."
The brand launched into Ocado, Whole Foods, Planet Organic, Crussh and a raft of deli and health foods stores across the UK in 2014 and is currently lining up further national stockists and wholesalers, along with on-trade stockists from cafés to gyms.