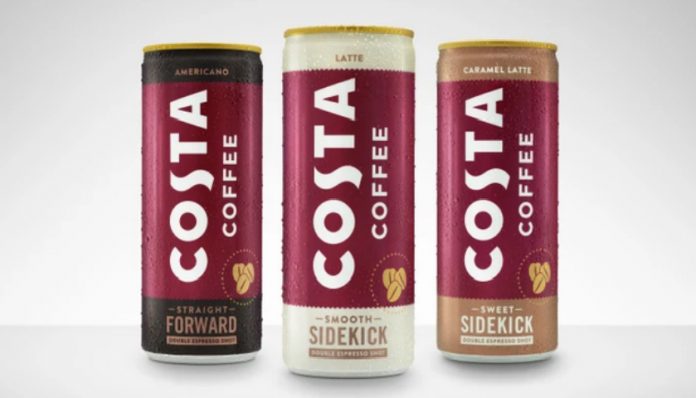 Coca-Cola has launched the first drink under the Costa Coffee brand six months after acquiring the coffee giant.
Costa Coffee Ready-to-Drink (RTD) is a chilled canned coffee range brewed with Costa Coffee beans.
It will launch with three of the coffee chain's most popular variants – Classic Latte, Caramel Latte and Black Americano.
The range also claims to contain 30% less sugar than most other ready-to-drink coffees in the UK, with between 15 and 108 calories per 250ml can.
"Our teams at Coca-Cola and Costa Coffee have been working around-the-clock to make our shared vision of Costa Coffee ready-to-drink coffee a reality," said Jennifer Mann, Senior Vice President and President of Global Ventures for Coca-Cola.
"This demonstrates the power of our partnership. It combines the marketing expertise, global scale and distribution credentials of the Coca-Cola system with Costa Coffee's expertise and capabilities in coffee."
Dominic Paul, CEO of Costa Coffee, added: "Through this collaboration we've been able to work together to offer consumers the great taste of Costa Coffee in a can for the first time."
The range is launching in the UK later this month closely followed by launches in Poland and China.