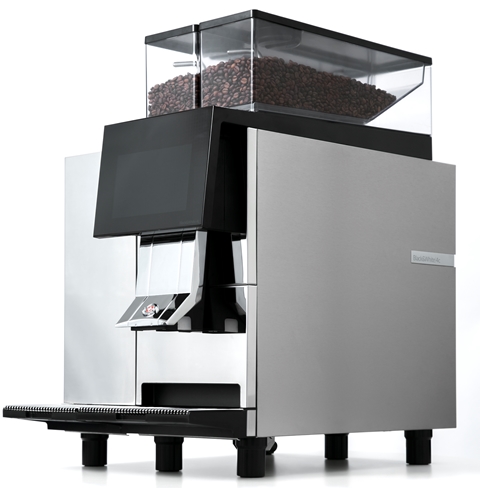 The Swiss-made Black&White4c, which claims to be the most compact bean-to-cup coffee machine yet, has launched in the UK.
The fully automatic coffee machine, hand-crafted by Swiss manufacturers Thermoplan, is aimed at the hospitality, pub and bar markets and available exclusively through UCC Coffee UK & Ireland.
The machine, which is 154mm slimmer than its next competitor, packs a host of features into its compact footprint. Freeing up valuable counter space, its slim design and intuitive interface enable operators to deliver barista-quality coffee and milk-based drinks with one touch in any non-specialist setting.
"The Black&White4c makes barista-quality coffee accessible and practical for the pub, restaurant and hospitality market," said Marcus Swift, head of sales and marketing, UCC Coffee UK & Ireland. "This precision-engineered machine meets the challenges of skills, space and customer loyalty facing these sectors; the Black&White4c is simple to use, extremely compact and reliable from the first espresso of the day to the last latte of service."
He added: "Coffee consumers are ever more informed and discerning, and more people are looking for alternatives to alcohol-led venues when socialising. These factors mean that there's a real opportunity for bars and pubs to diversify their hot beverage offering, becoming coffee destinations in their own right and using all day parts. The Black&White4c enables them to do just that, increasing revenue without additional training or sacrificing counter space."
Sascha Hupf, key account manager, Thermoplan AG, added: "This is the most compact bean-to-cup machine we have ever produced. It is significantly smaller in terms of footprint than other competitors, but it has been engineered without compromise. From the stainless steel burrs that produce fresh coffee for each cup, to our patented milk system that ensures a perfect cappuccino, the Black&White4c showcases the best of Swiss precision component parts, engineering and manufacturing."
The Black&White4c officially launches at Lunch!