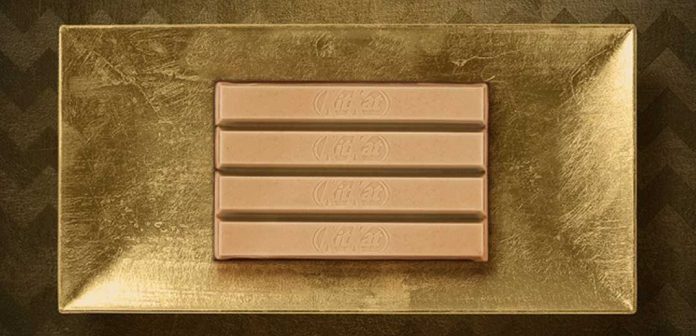 A KitKat variety that was first introduced in Australia two years ago as a limited edition before consumer demand led to it becoming part of the permanent range is launching in the UK.
KitKat Gold is topped with caramel flavoured white chocolate and will hit British store shelves from the beginning of February.
The four-fingered chocolate bar, which uses UTZ-certified cocoa beans sourced as part of the Nestlé Cocoa Plan, will be launched in Co-operative and Nisa stores as an exclusive on 3 February 2020, before rolling out to most major retailers from 30 March.
"I am certain that KitKat Gold is going to be just as big a hit on these shores as it has been down under, especially if the reaction at Nestlé HQ is anything to go by," said Alex Gonnella, Nestlé's Marketing Director, Confectionery for the UK and Ireland.
KitKat Gold is the latest in a series of recent innovations for the KitKat brand which includes the launches of the Green Tea Matcha and Ruby varieties. In September last year, Nestlé also introduced the KitKat Chocolatory.
Gonnella added that there's "exciting plans" ahead for both the KitKand brand and Nestlé's wider confectionery portfolio.