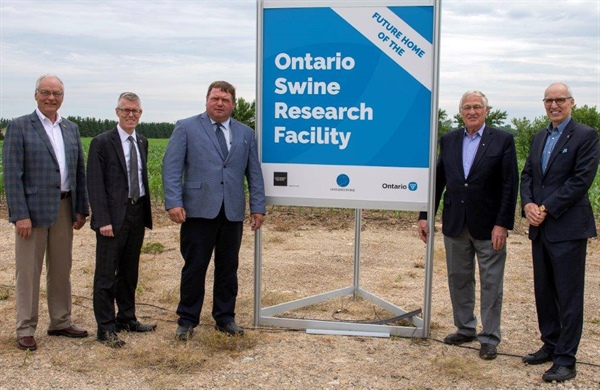 A newly announced swine research facility will utilise state-of-the-art technology to meet advance training and research needs of Canada's swine sector.
Announced this week by Ernie Hardeman, Minister of Agriculture, Food and Rural Affairs, the Ontario Swine Research Facility will serve the University of Guelph (UoG) and pork producers in the region.
Located at the UoG-owned Elora Research Station, the facility is a partnership among UoG, Ontario Pork and the Ontario government through the Agricultural Research Institute of Ontario.
Swine research will be relocated from the current Arkell Research Station to the newly expanded Elora Research Station.
Once completed, researchers from UoG will use the facility to study animal health, nutrition and welfare; consumer-oriented research; environmental factors; genetics and genomics; nutrient management; and reproduction.
$12 million has been committed by the Province of Ontario to help fund the construction of the new facility. A further $3 million is being committing by Ontario Pork.
"As Canada's food university, the University of Guelph brings a breadth and depth of agri-food expertise to sustain and further strengthen our food system," said president Franco Vaccarino.
"The provincial government's investment in this new facility will help UoG researchers and our partners explore key questions and develop new solutions to help our agri-food sector maintain its reputation for global excellence."