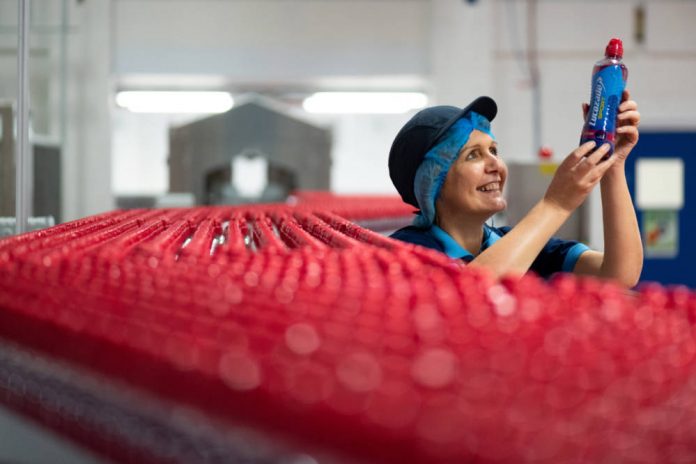 A new high-speed bottling line at Lucozade Ribena Suntory's factory in Coleford has officially opened a year after £13 million was invested into the plant.
The line fills 55,000 bottles an hour, enabling Lucozade Ribena Suntory to keep up with consumer demand for its drinks.
This new line forms part of parent company's Suntory Beverage & Food's global sustainability strategy by reducing the amount of water and energy used during the manufacturing process.
Producing a bottle on the new line requires 40% less energy and water than the previous line. This is in part due to world-class innovation such as new dry aseptic technology, which uses heat and pressurised air instead of water to clean bottles before they are filled.
These efficiency improvements represent a 4.4% reduction of energy and water consumption for the Coleford site as a whole.
The Gloucestershire factory is at the heart of Lucozade Ribena Suntory's UK operations and is already one of the most efficient factories under the Suntory brand.
The investment also sets Lucozade Ribena Suntory up for future success as the additional capacity for bottle production allows the factory to evolve alongside consumer tastes. While Lucozade Ribena Suntory's much-loved core drinks remain incredibly popular, this new line will provide flexibility for future innovation, particularly around new low-calorie options, which can now be delivered to UK consumers in a more sustainable way.
Carol Robert, Chief Operating Officer at Lucozade Ribena Suntory, said: "The launch of this production line is significant for us and forms part of our 'Growing for Good' vision.
"It's fantastic to have been able to invest £13 million in this line and to deliver a 40% reduction in the energy and water required to make each bottle. In doing so, we are making an important commitment to both the environment and our consumers."