Silky cappuccino foam, fluffy cream cakes and creamy soups – when the taste buds explode with delight, it's not just the aroma, but also the consistency of the product that counts.
The Dutch company Kievit, of the Friesland-Campina Group, is a specialist in such taste experiences for the food sectors. It's the quality of ingredients that ensure a delicious taste, texture and sensory perfection.
"In partnership with our customers, we develop specialist ingredients, such as foaming cream agents, coffee and cocoa blends, fat powders, whipping agents, functional blends, micro-encapsulation and cake emulsifiers," explains Ger van den Berg, who is responsible for production and project engineering at Kievit's Meppel site.
Technologies like emulsification, spray drying, microencapsulation and agglomeration are used to convert liquids into powders or give products certain desirable properties.
Prompt intervention
One application, however, has been under constant observation for many years: the place where the emulsification process is monitored and controlled. The prevailing conditions are typical for food production, warm up to 85°C, with strong vibration and where pressure shocks are common, running generally between -1 and +8 bar. As soon as the emulsion reaches the desired temperature, it's discharged via a high-pressure pump and circulated in a system.
"In the past, pressure gauges from another manufacturer were used, but they had a short lifespan and caused problems," explains van den Berg. A combination of moisture ingress and the sensitive diaphragms of the sensors would often cause failures.
"However, this measurement is critical for the overall process – to monitor the contamination of the filter, which is crucial to stop damage to the pump," explains van den Berg further. Other solutions, such as flow measurement, did not work properly either.
At this facility, the new VEGABAR 38 was installed for field testing at this measuring point even before its official market launch in August 2019. It is a universal pressure transmitter with a ceramic measuring cell that can operate up to 130°C. This is a very compact, cost-effective sensor for simple and highly efficient automation solutions, but there are no compromises in terms of safety, hygiene or accuracy – a must for the food and beverage sector.
Perfect in operation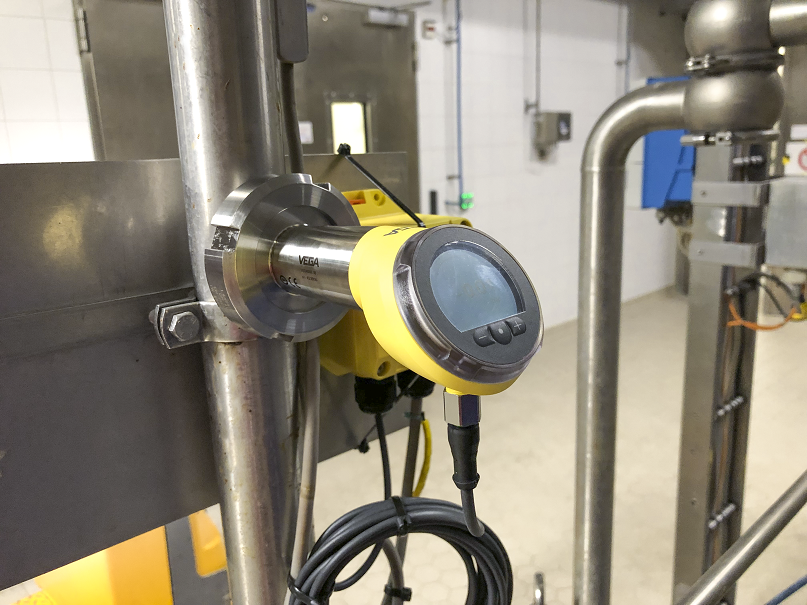 The universal hygienic adapters make installation flexible and easy: the process fittings can be selected as required and adapted to suit. The sensors also feature a display with a superbright LED 360° status colour ring. Up to 5 individual status colours with flashing options are freely selectable. They show at a glance, and from a long distance, how the process is running, or if there is a possible malfunction in the process.
The instruments have a standardised communication platform including IO-Link for universal and simultaneously simple communication, that enables seamless data transfer and simple integration into the system.
The new VEGABAR measuring instrument series can also be conveniently read and configured with a smartphone or tablet. Especially in environments with many pipelines and interconnected production processes, where access is difficult and time-consuming, this option considerably simplifies sensor adjustment and operation. This is an aspect that van den Berg appreciates very much in his daily work routine.
Simple, reliable setup and commissioning
"Thanks to the Bluetooth and VEGATOOLS app the setup and monitoring of the VEGA instruments is very easy," says van den Berg. "I also like the colour, after all, it's nice to have equipment that doesn't just look great, it works great too," adds van den Berg with a smile, pointing out the pressure sensors that have been working perfectly since they were installed.
For further details or information: info.uk@vega.com