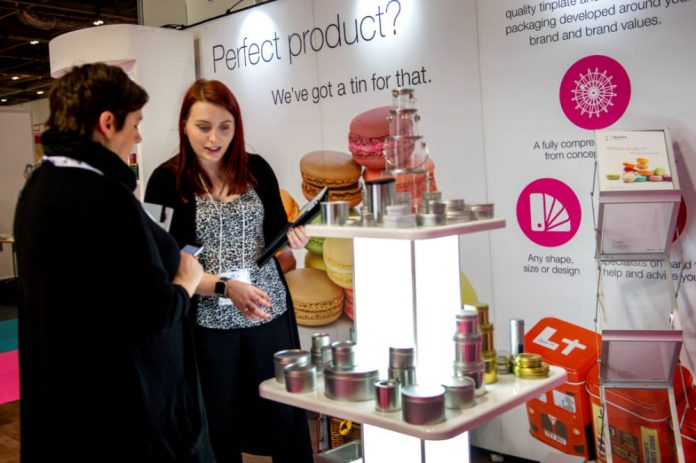 Registration for next year's co-located events, The International Food & Drink Event (IFE), and Pro2Pac (P2P), at London ExCeL is now live.
What's coming up at IFE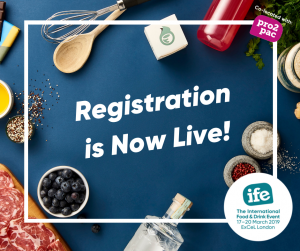 A must-attend event, IFE 2019 will provide buyers with the chance to discover emerging trends; meet with thousands of international, future-focused producers and brands; and hear inspiring and thought-provoking talks from key figures across the food & drink industry.
Taking place in London – the home of food & drink innovation – IFE 2019 will provide a taste of tomorrow with the launch of captivating new event attractions, including:
Tasting Trends – taking future trend-gazing to the next level, this multi-sensory experience will allow visitors the opportunity to see, smell and taste some of the most innovative and on-trend food & drink products.
The biennial event provides both British and international suppliers with the rare opportunity to meet and connect with top retail, wholesale & distribution, import & export and foodservice & hospitality buyers all under one roof. With 1,350 innovative, global and cutting-edge food & drink manufacturers attending from 111 countries, IFE 2019 is one of the only places to experience the best of the what the food & drink industry has to offer across the globe.
Click here to register for the event.
Sustainable solutions to global packaging trends at P2P
Especially designed for food & drink businesses looking to be inspired by new concepts,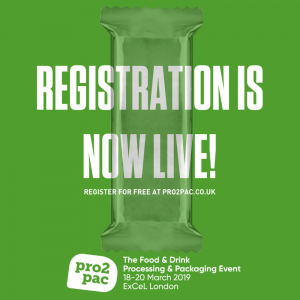 innovative solutions & designs, Pro2Pac will feature 120 suppliers including names such as Tetra Pak, Adpak Machinery Systems, Ilpra Systems UK and Ravenwood Packaging.
International representation for 2019 so far includes suppliers and solutions providers from Turkey, China, Russia, Sweden, Poland, India and Germany.
The event will offer a full schedule of free-to-attend added value attractions such as seminars, networking opportunities and workshops. An impressive array of experts will lead debates on key issues such as sustainability, plastics, global packaging trends and Brexit on the Outside the Box Stage.
While awards including the Pro2Pac Student Design Challenge, jointly co-ordinated by the event organisers Fresh Montgomery and the Packaging Collective, as well as The Pro2Pac Excellence Awards will shine a light on the future of packaging innovation.
Pro2Pac is the meeting place for everyone in the food & drink supply chain – an influential biennial gathering of producers, manufacturers, technologists and design specialists.
To register for your free entrance ticket to Pro2Pac, click here.