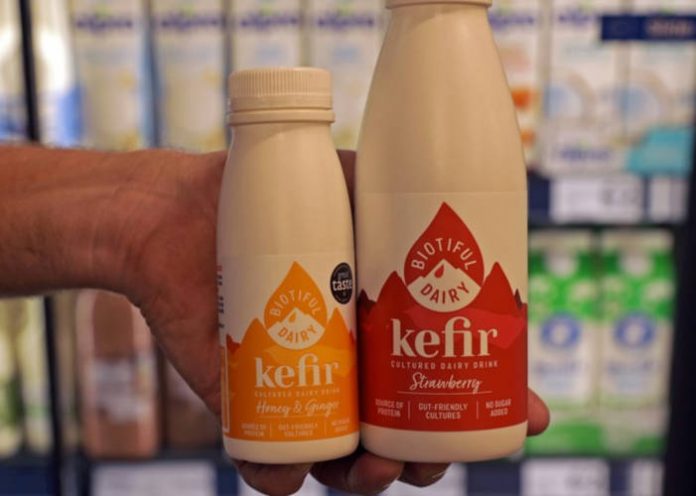 Kefir is tipped as one of the major food trends of 2020 after sales of the yoghurt-like milk drink boasting gut-friendly bacteria dramatically increased over the last year.
Until recently, kefir was a niche dairy product in the UK, brought and consumer predominantly by Eastern European shoppers. But now demand for kefir drinks is soaring with Tesco seeing a 400% rise in the last 18 months.
Food experts believe that could be down to its probiotic qualities with kefir containing 40 types of gut-friendly bacteria as well as being a rich source of protein, calcium and vitamins.
"Shoppers are really switching on to gut-health and demand for kefir is now so strong that in the last few years we have nearly doubled our range and we have plans to add more this year," said Tesco Dairy Drinks buyer Vicky Smith.
"Its popularity has been building, mainly by word of mouth, on a monthly basis to the extent that we now stock seven different drinks as well as four yoghurt variants.
"The original natural variety has a slightly sour but wonderfully creamy taste. Last year in order to widen its popularity we added cherry, strawberry plus mango and turmeric flavours."
The drink was first discovered by shepherds keeping milk in leather sacks which were open to the yeasts and bacteria in the air.
These natural cultures mixed with the milk and caused it to ferment, creating kefir, which literally means 'feel good' in old Turkish.
It became easier to find in the UK at the start of the noughties when Tesco began stocking it as part of its Polish food offering.
Word about its health-giving qualities grew and as demand took off in the last decade the supermarket brought in its first UK kefir producer, Biotiful Dairy and ranged the drinks in its regular dairy aisle.
There are now nearly 10 dedicated kefir manufacturers in the UK with the top-selling brand being Biotiful Dairy who were ahead of the trend when they were formed by former Russian figure skater turned entrepreneur Natasha Bowes.
"I grew up in Russia where kefir is a way of life and it is rare for anybody to have problems with their gut," said Ms Bowes.
"When business brought me to Ireland and then England more than 20 years ago I found it hard to find kefir but then had a lightbulb moment of creating my own dairy.
"We opened in 2013 and since then we have moved helped widen the appeal of kefir by introducing Morello cherry and honey flavours in order to appeal to kids. And there are further big plans in store for later this year."