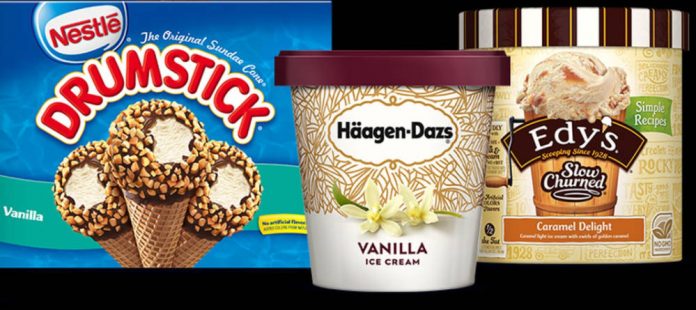 Nestlé is selling its US ice cream business to Froneri, an ice-cream focussed joint venture it created with PAI Partners back in 2016, for $4 billion.
In 2016, Nestlé and PAI Partners merged the former's European ice cream business in 20 countries and PAI-owned R&R to create Froneri, one of the world's largest ice cream companies.
Froneri has been able to achieve rapid sales and profit growth, steadily gaining market share and reaching a turnover of around CHF 2.9 billion in 2018.
Froneri, which already had operations in Europe, Latin America, Africa and Asia-Pacific will now have a strong presence in the US, the largest ice cream market in the world.
The recent acquisitions of TipTop in New Zealand and Nestlé's ice cream business in Israel have also increased Froneri's growing global footprint.
In 2018, turnover for Neslté's ice cream business was $1.8 billion. With brands like Häagen-Dazs, Drumstick and Outshine, the business commands leadership in key ice cream categories, notably super premium.
"The creation of Froneri has been a phenomenal success. We are now making this business our global strategic partner in ice cream and are convinced that Froneri's successful business model can be extended to the US market," said Nestlé CEO Mark Schneider.
"With this transaction, we are taking a decisive step towards our goal of achieving global leadership in ice cream."
Frédéric Stévenin, Partner at PAI Partners, added: "This is a great opportunity for further growth, building on the expertise of the world's leading pure-play ice cream company."
The transaction is expected to close in the first quarter of 2020.