Future Food-Tech
11th March 2021 @ 5:00 pm

-

12th March 2021 @ 10:00 pm

$15 – $2021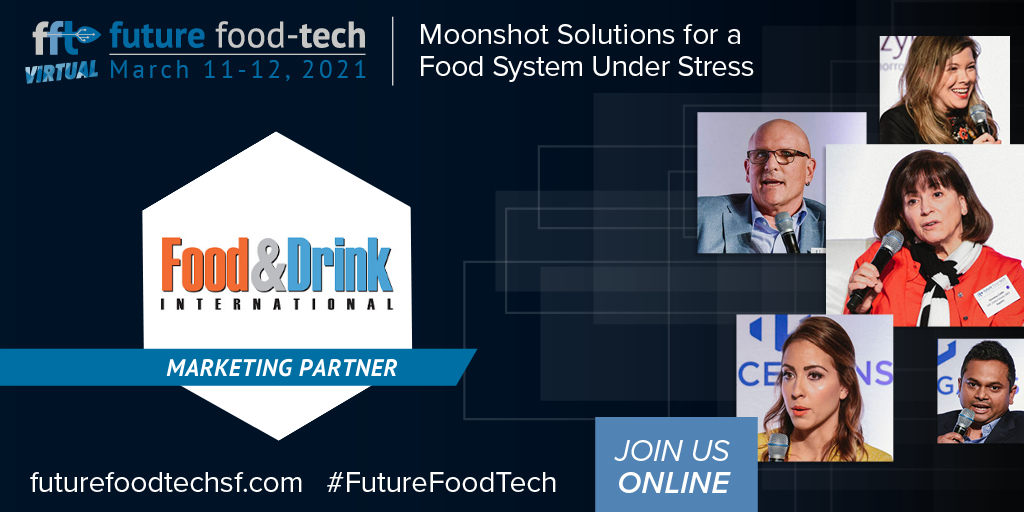 Moonshot Solutions for a Food System Under Stress
Our food system is undergoing a revolution. Covid-19 and the threat of climate change are driving unprecedented demand for more efficient, nutritious and sustainable solutions.
Future Food-Tech's flagship San Francisco summit, hosted virtually, will act as a digital bioreactor – bringing together West Coast innovators, global food brands, ingredient providers and investors to grow ideas from concept to reality.
New formats, from interactive mentoring to Ask Me Anything sessions, will be coupled with fireside chats, panel discussions and a plethora of 1-1 networking opportunities to address the biggest opportunities in the food-tech sector.
The summit will focus on:
– Food Security and Sustainability: Addressing Vulnerabilities Exposed by Climate Change and Population Growth
– D2C and E-commerce: Launching New Products in the COVID-19 Era
– Bench to Production: Overcoming Scaling Challenges to Bring Novel Proteins to Market
– The Future of Meat: Does the Answer Lie in Hybrid Products?
– Boosting Immunity: Functional Foods to Help Us Live Longer – and Healthier
– One Year On: How Have Consumption Habits Changed Post-COVID-19?
– Unpacking the Possibilities: What Materials Hold the Key to a Plastic-Free Future?
– Getting More Out of Plants: Entering the Next Phase of Plant-Based Ingredient Innovation
– Paths to Exit: How Has Coronavirus Impacted Investment Strategies?
– The Devil is in the Details: Is the Way We Label Food Fundamentally Flawed?
– The Rise of the Rest: Is Silicon Valley Losing its Luster?
– Navigating Regulatory Processes to Commercialize Products Faster
– Shooting for the Stars: Developing Technologies for Extra-Terrestrial Food Production
– Preventing Food Waste on an Industrial Scale Through Upcycling
Save 10% with discount code FDI10