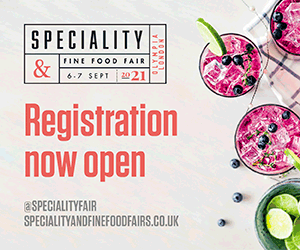 Registration is now open for Speciality & Fine Food Fair, the UK's leading showcase for artisanal food & drink!
Whether it's unearthing innovative and inspiring products from 200 brand new companies in The Discovery Zone, or debating the latest trends on our Food for Thought stage, Speciality & Fine Food Fair will allow you to experience the finest products in food & drink in a way that simply cannot be done from sitting behind your desk.
Taking place from 6-7 September at Olympia London, the Fair is an Aladdin's cave of artisan food & drink and is a fantastic opportunity to hear and learn from top retail specialists, industry disrupters and entrepreneurs. Condense a year's worth of product sourcing into an inspiring journey of discovery.
Click here to register for your free ticket today!